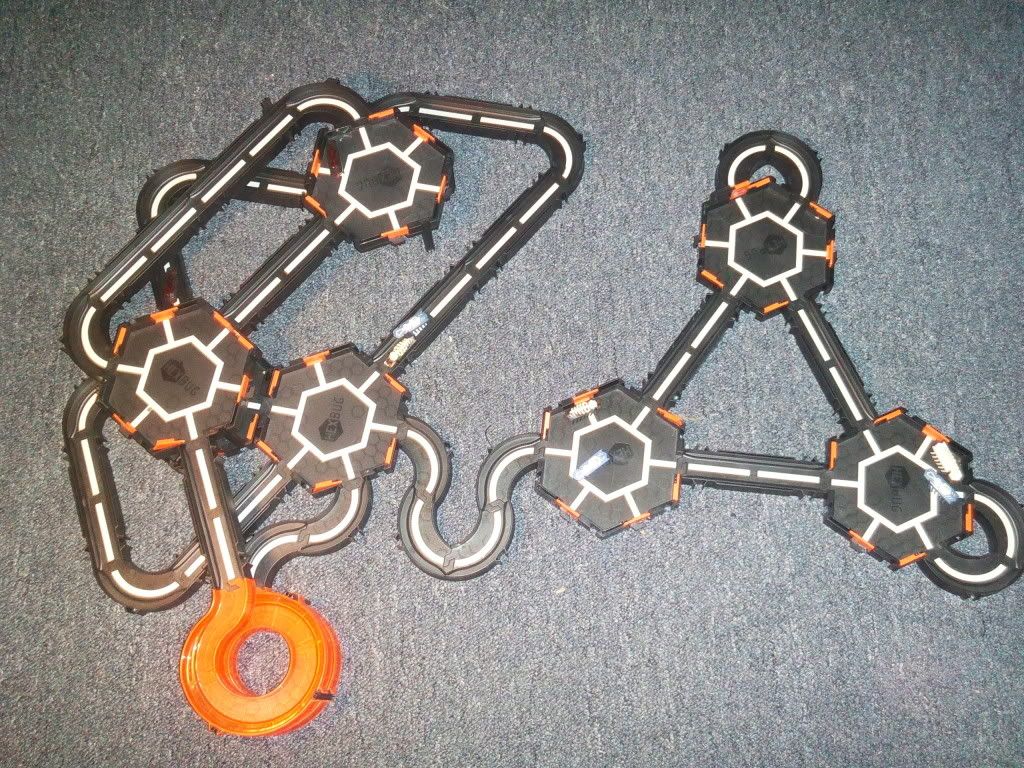 Two different habitats put together
If you have kids, then you know Hexbug's are pretty popular. These robotic toys are now available in Glow in the Dark and we had the opportunity to have a Hexbug Nano Halloween Party to show off these fun bugs.
One of the party goers got to take home a Glow in the Dark Hexbug Habitat for their new bugs. The habitat can be connected to other habitat kits to make one giant track. The kids had fun configuring the habitat for all the bugs.
The party has begun
We couldn't find a light big enough to shine on all the tracks so the pictures aren't that impressive for the glow in the dark tracks. The party started around 2pm and we had the kids place their Hexbugs on the window ledge so that they could see them glowing. I was pretty impressed with how bright the bugs were.
You can barely make out the track glowing
I was able to hand out some of the limited edition Hexbug Halloween Vampire Bugs. They came in a coffin shaped box that the kids LOVED. I would say the only thing I did not like about the Hexbug Glow in the Dark Halloween Vampire Bugs was that the exoskeleton came off the top of the bugs and were easily lost. Plus, my six year old wanted to place them in his mouth. That isn't good for households that have smaller children that are constantly placing things in their mouths. To me, it was a chocking hazard even though the box clearly states that it is for children 3 and up.
The kids enjoyed racing the bugs up and down the tracks. All the kids at the party received a Hexbug Nano gift and a set of batteries so that they could continue the fun at home. This was my first hosting party and I enjoyed it very much. We loved trying out the Hexbug Halloween Bugs and the habitat set.
You can purchase Hexbugs at Radio Shack and various other stores. The bugs range in price from $5-$15 and the habitats range in price from $30-$50. This is something that boys will probably have on their Christmas list this year.
Disclosure: I received a Hexbug Halloween Party Kit in exchange for my post. The thoughts and opinions in this post are 100% my own. You may have a different opinion or experience with this product. Thank you to Hexbug and MomSelect for the opportunity.